Vincent Design's newest graphic designer has some good advice to share. She encourages other students and young adults to 'stick with what you love', trusting there is a career out there to match your interests and talents. And she has both the dreams and the job to convince you.
Shania Murdock was part of the first cohort of students registered in CEDA's Pathways to Education program when we opened our doors in 2010. She even remembers CEDA recruitment staff coming to her grade nine class and her friends, already registered, encouraging her to sign up.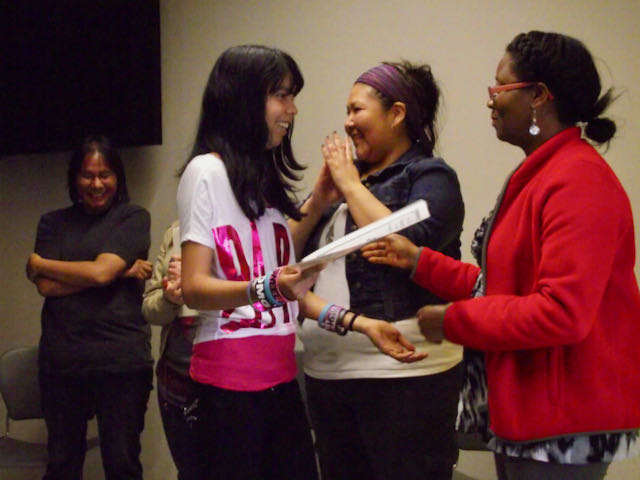 "I remember my SPSW, Elaine, and going to the little building at 419 Selkirk Avenue every day after school for four years to use the computers for homework, hang out with my friends, and stay to eat and have dinner together," recalls Shania.
We remember her as the creative and driven young person who always looked like she had stepped off a page of Vogue Street Style. It's been 10 years since Shania was recruited to our program – a decade that saw her graduate from high school and post-secondary studies. But she's still that same creative, driven (and fashionable!) young person – and also now a graphic designer working her dream job at local Winnipeg graphic and website design company Vincent Design.
Vincent Design created CEDA's new logo and redeveloped our website four years ago and we have been working with them on design projects ever since. Things came full circle when Shania joined the firm in 2020 – and one of her first projects was the design of a CEDA recruitment poster for Pathways to Education.
Growing Her Love for Design
Shania was recruited to the Pathways to Education Program the same year she started at RB Russell High School. As a vocational high school, students can elect to enrol in a technical program and submit their top four program choices. At first, Shania's top picks were hairstyling, metals or woods. A naturally creative person, Shania says she has always loved art in all mediums, from drawing and painting to crafting and sculpture, and was looking for a hands-on program where she could explore her artistry.
Yet she didn't even consider graphic design until her principal, Ms. Wahl, persuaded her to add it to the list. When she found out that she was placed in Graphic Design, she was initially disappointed: "I really wanted hairstyling! But I knew design was the right spot for me at the very first class."
For four years, Shania stuck with the Graphic Design Program at RB Russell High School, and credits the mentorship from her teacher, Mr. Blake, as a key influence in her growth as an artist. She says that Mr. Blake encouraged her to grow through her assignments and helped her access freelance design work while she was still in high school: Shania helped design a mural in the school, designed and sold student merchandise in the school store, and was even hired during the summer as a graphic designer at WASAC, all before even graduating from high school!
A sure sign she was on the right path, Shania remembers the hard work she enjoyed putting into her graphic design classes, consistently earning grades of 98–99%. "Mr. Blake refused to give me that perfect mark, telling me it would be less of an encouragement to continue to grow and learn and improve. That missing 1% pushed me a lot. I was always striving for that 100%," she says with a laugh.
"That missing 1% pushed me a lot. I was always striving for that 100%." 
In 2014, Shania graduated with both a high school diploma and a diploma in Graphic Design. Her dedication and efforts in high school helped her earn scholarships from both Pathways to Education and the Rotary Club's You Can Do It Awards. She enrolled in Graphic Design at Red River College in Fall 2014.
Shania's Post-Secondary Path
Shania's first year in the graphic design program at Red River College was challenging, and she decided to take some time away from the program to work and save additional funds for her education. It was after the passing of her grandma, someone who had been a great source of encouragement to pursue her dreams and succeed in school and life, that Shania knew she had to go back. She re-registered in the college program again the very next day. "I wasn't ready [the first time], and I had to take some time off. I was only 17 and I needed to grow up a bit to be able to take it seriously. When I went back in 2017, I knew how much was going to be assigned and what was expected of me, and this time I was ready for it."
During her time at the college, she was able to combine her savings and her You Can Do It Award scholarships to help cover her tuition, and she used her Pathways to Education scholarship to purchase her design laptop and school supplies. With her motivation, talent and drive to succeed, Shania found her path again in the program and graduated with a graphic design diploma in the summer of 2020.
Dream Job
While looking for work in her field, Shania already knew that she didn't want to join just any company, applying instead with intention at companies whose values matched her own. She had heard of Vincent Design and had her eye on the firm when she graduated. In the fall of 2020, Shania was on Facebook and just happened to accidentally click on the employment section: the first job posting that came up was for a Graphic Designer at Vincent Design. She applied and was interviewed and hired very quickly. Shania says she loves being at Vincent Design and part of a small business that feels like a family, adding "I'm literally working my dream job!"
Not only is she proud of the company she works for, Shania is also growing her style and artistry through the firm's design projects with Indigenous companies. Growing up, Shania's aunts and uncles shared Cree syllabics and animal designs with her, and now, her projects at Vincent Design allow her to dig into her history and explore her Cree identity while also guiding some of her designs.
Vincent Design is equally happy to have Shania as part of the team. "We just completed a branding project that Shania was the lead designer on, and it was approved with a fantastic review from the client," says accounts manager Chris Redekop. "Her artistic instincts and ability to visually convey people's stories are exactly what we, and our clients, are looking for."
"Her artistic instincts and ability to visually convey people's stories are exactly what we, and our clients, are looking for."
Giving Back 
In a new and exciting project, Vincent Design has partnered with Indspire to create The Vincent Design Scholarship Fund, providing educational funding to Indigenous Youth pursuing postsecondary studies in graphic design and related programs. The Scholarship Fund aims to reduce barriers to educational success for Indigenous youth while encouraging their future careers and contributions in the visual arts.
Shania recognizes that it's important for young creative people to be mentored by others and is excited about the opportunity to work with and mentor future young graphic designers through Vincent Design's program. And when asked what advice she would offer to young people who are curious about how to use their creative gifts after high school, Shania says with the confidence of her own experience: "If you're passionate about it, you can do it."
"If you're passionate about it, you can do it."
To donate to The Vincent Design Scholarship Fund, please visit: https://indspire.ca/vincent-design/.